Jim Hughson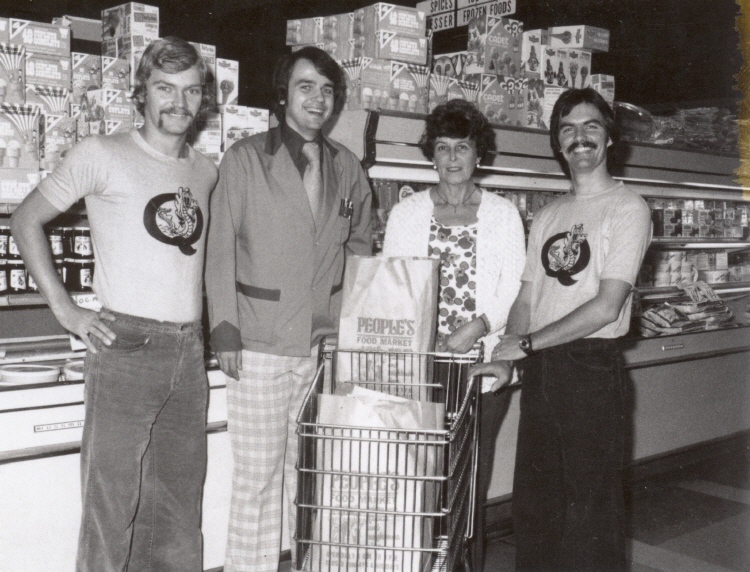 Jim pictured at left at CKIQ at a store promotion
Jim Hughson - DJ/news/sports/sales CKNL Fort St. John BC; CKIQ Kelowna; CKNW Vancouver sports 1979-1982; Toronto Maple Leafs play-by-play CBC TV 1982-86; TSN hockey & baseball 1986-1994; Vancouver Canucks play-by-play CKNW Vancouver 1994-1999; Snapshots Host/Canucks Hockey play-by-play/Centre Ice feature analyst Sportsnet 1999-current; western Canucks games play-by-play CBC 2005-current.
***
1983
Hockey play-by-play announcers should keep their mouths shut more often, the former voice of Hockey Night in Canada suggests.
Bill Hewitt, who retired recently after 30 years of play-by-play broadcasting, believes that announcers in this country today are a collection of motor-mouths who don't concentrate enough on describing the game and spend too much time digressing from it. He says he has heard similar complaints from fans who say the announcers he criticizes are irritating them as well.
One announcer whom Hewitt believes is guilty of discussing peripheral subjects too often during the action is Jim Hughson, who succeeded Hewitt this season as the Toronto Maple Leaf announcer on weeknight telecasts. "I think the young fellow does much too much talking about other things while the play is on," Hewitt says. "He comes up with trivia that really doesn't have any bearing on what is going on on the ice. I don't like it at all. Hockey's too fast for intermediary commentary. It's okay for football when you have so much time between play, but I just don't like it in hockey. "He (Hughson) has tremendous potential, but he has to stop talking so much. He has to leave the color commentary to the color commentator. And it's not just him. They're all doing it now. It bothers me. It has to go back to the old format, where announcers simply described what was taking place on the ice." Hewitt, of course, followed the old format strictly, as did Danny Gallivan, then his Montreal counterpart. "I still think Danny is the best," says Hewitt, who, at 54, retired before this season after an illness last season. "You listen to him and you'll know that you'll get a very live, exciting play-by-play description. "But even Danny has drifted away too much from the old-school format. He must be getting some direction to talk more away from the play." Hewitt's primary objection to the digression is based on his conviction that hockey can sell itself. "It doesn't need people in the broadcast booth selling it for them," he says. "I never made editorial comments because the viewer could see the action. That hasn't changed. "Technically, the telecasts are as good as I think they can be. Why ruin them with excessive and unnecessary chatter?" Hewitt's comments follow those made a couple of weeks ago by his father, Foster, who pioneered the art of hockey broadcasting more than 50 years back.
The younger Hewitt agrees with his father that contemporary broadcasters "try to joke too much and be comedians" on the air. He also feels that there are too many teams in the National Hockey League - which has resulted in a diluted product - and too many raw, junior-age players who aren't ready for professional hockey.
***
1985
Since just before television discovered sports, a persistent belief in and out of broadcasting has been that radio-style play-by-play announcing cannot, or should not, be transferred to TV. Viewers can see what is happening, the argument goes, so why insult them by describing a game as though they cannot?
By and large this opinion is held by broadcasting people who do not do play-by-play, and ignored by those who do. That leaves a fine theory but one that's difficult to assess, except the once it was carried to the extreme and was a disaster. That was the NBC experiment of telecasting a football game without running commentary. It was as exciting as silent movies and went the same way.
There is evidence, though, that a merger of the two styles will work. For the past three seasons Jim Hughson has been doing play-by-play of the Toronto Maple Leafs games on Channel 11. Mostly his approach is radio- style, but sometimes he throws in asides not directly related to what's on the screen and sometimes he will say nothing. For a second, maybe two, there will be silence.
It adds up to relaxed, easy listening. "I'm consciously doing it more and more," Hughson said recently. "A few seconds (of silence) here and there, I think, is a chance for the audience to take a breath, too. "When I first came down here I was strictly radio-style. I still think there is a degree to which that is necessary. You have to pick your spots because there are times in ( Maple Leaf Gardens ) when you can hear a pin drop, and if the announcer isn't saying anything the game becomes a colossal bore to watch. "As often as I can, I tape my broadcasts and play them back, not because I'm fascinated with the sound of my own voice, but because I think it's important to sit down and analyze games and my own performance. "I try to pick out redundancies or phrases I don't like. Maybe I'll be on a tangent for three or four games and every time a guy takes a shot I'll describe it as 'he's taking a drive.' Next game I'll try not to. "Or I'll look for places where I can let the play carry itself," Hughson said.
***
1991
Between the hockey, and his summer work with Ken Singleton on Montreal Expos broadcasts, the Fort St. John , B.C. native has come of age. At 34, Hughson may be the best two sport play-by-play man in the country.
Who's better? Not Don Wittman. Chris Cuthbert? Maybe, if he had a major sport to work after hockey, as Hughson does. Don Chevrier? Could be, but Chevy's working more American games than Canadian these days.
Hughson came up the same way everyone else did -- on the back roads. There was Tier II junior hockey in Kelowna at CKIQ radio; Brandon, and the Tier I Wheat Kings; and eventually Vancouver, where he subbed for Jim Robson, describing the Canucks 1982 Stanley Cup run on CKNW radio.
He has also worked for Hockey Night in Canada , freelanced for SportsChannel America and ESPN, and did an Ontario Hockey League game of the week for yet another station.
"I've got a closet full of jackets, but you can't wear any of them. Everyone had such bad taste," he said.
***
1994
Hughson was just a pup when he left CKNW in 1982 after a three-year stint on the afternoon-evening shift and as Robson's backup before the era of simulcasts. Single, with shaggy blond hair and a Fu Manchu mustache, he struck out for Toronto and soon landed a job as the Leafs' mid-week TV play-by-play man. A shave and a haircut ensued as did a bright career.
In 1986, Hughson moved to TSN to work their NHL and major-league baseball package. He has enjoyed an eight-year association with the all-sports network that ends with his final Blue Jay assignment (strike permitting) Sept. 29.
``People in the east might not understand why I'd move, they might perceive it as a step backwards,'' said Hughson, married with a four-year-old son. `` Vancouver is a huge market now and Jim Robson has made this job a very prestigious one. I've always felt he was the best in the business and it feels really good to be able to follow him. Being Jim's backup in the early '80s is where I got the bug that I wanted to do play-by-play full-time. But there were no openings -- I mean, this job only comes up every 24 years -- so I had to leave at the time. CKNW understood why I left and I had always hoped they would call if the situation changed.''