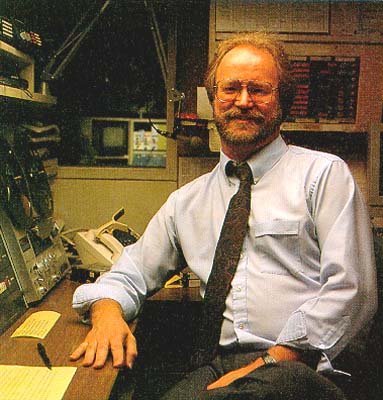 Jon McComb
born. May 20, 1953,  Ephrata, Wa.
1972 CKVN Vancouver at age 19
1975 portland
1977 CFCF Montréal
1978 CJAD Montreal
1980 CKNW
1981 Sunshine Cabs
1983 CKNW - news
1989-1991 filled in for Philip Till
1991-appointed co-host for World Today
***
Actually, my predecessor in the job was Jon McComb and I worked as his backup for a couple of games at the end of 1986. Then Jon and I changed shifts at CKNW -- he went to work evenings and I went to work days -- and I took over his job as the P.A. announcer.
quote from ashbridge 2006
***
The Top Dog has been hit by a catastrophe and a mistake. The catastrophe was Frosty Forst's retirement. The mistake was compounding the blow by a stupid reaction.
The 'NW brains broke up the pleasing afternoon drive-home show -- a smooth game of catch between Philip Till, posing as a stuffy old Englishman, scorned by Jon McComb, portraying a with-it younger guy mocking Till's dinosaur ideas -- and reassigned Till to replace Frosty.
That left both shows damaged.
Till is a real news pro with deep global experience who has handled big international stories like 9/11 with great skill, tapping strong contacts with top reporters. In between such crises he and McComb shared a very entertaining afternoon light- information and sometimes lighter phone-in show.
***
North Shore News 2005
Jon McComb: If you had told me in January that I would be leaving work for six months, starting in February, I would have said you were crazy. I didn't even consider it as a possibility - there was no way I could take six months off, not with this kind of job. But my mind and body finally just said 'Stop. It's time to stop.' And the people at Corus Radio in Vancouver have been completely supportive. Management sometimes gets a bad rap, and it can't be easy to have one of your key on-air people disappear for six months, but I've been amazed. Nothing is impossible.
2004 BC Business
***
Major kudos to CKNW's Jon McComb for his stellar on-air tribute and farewell to longtime broadcast king, Jack Cullen.
On such solemn occasions as the passing of a friend and colleague, words can be difficult to find. But on his Wednesday evening show, The Agenda, McComb's performance was flawless.
He gathered a cast of Cullen's co-workers and cronies for an upbeat evening of remembrance and respectful homage. Among the assembled guests: Sev Morin, Dal Richards, George Garrett, Red Robinson, Dick Abbott, John Ashbridge and Bill Hughes.
Culling through the NW archives, McComb even included vintage Cullen clips, including one in which Jack is less than thrilled with station management's programming directives regarding his show -- and is quite vocal in his opposition.
McComb's tribute was made all the more moving by the recurring use of Jack Cullen's long-running Owl Prowl theme music, Neil Hefti's sultry "Girl Talk". It was an outstanding tribute to one of Vancouver radio's true pioneers. Well done, Jon!
Joe Leary Province 2002
***
The Vancouver Sun Apr 9, 1997
Rick Honey show to be taken off and replaced by Till/McComb - The World Today