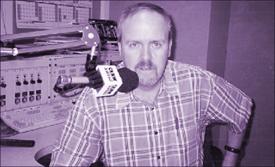 Dan Russell
BCIT Broadcast Program graduate; hockey play-by-play community TV 1976-80; all-night host CISL Richmond 1980; CJOR Vancouver 1982 Sports Talk debut Oct. 15, 1984; CKWX Vancouver 1988; CFMI-FM Vancouver 1989-97; CKNW Vancouver 1997; a.m. drive co-host with Bill Courage CKST Vancouver May-July 2001; Sports Talk CKNW current
***
Russelling Feathers
by Stuart Chase
langara 2001
There is a well-known animal here in Vancouver. But he's not known for his indomitable size. He isn't a big man, just an average guy with a scruffy moustache and goatee, and a shock of hair that's often hidden under the brim of a baseball cap. His real notoriety comes from the size of his opinions. His name: Dan Russell.
My search for the Vancouver radio personality begins simply enough; set up an interview with the host of SportsTalk and meet the local sports broadcaster with a long and colourful history on BC's airwaves. But things don't go quite according to plan. Russell is indeed a well-known personality, but an elusive creature all the same. After weeks of constantly nagging both Russell and his producer for an interview, I have finally been granted one.
Born and raised in Vancouver, Russell knew from Grade 4 that he wanted to be an on-air personality. His father, who himself wanted to be a disk jockey, used to bring young Russell down to one of the local radio stations to watch the d.j.'s do their thing.
"There I was, just sitting in awe, and I really got hooked on the whole radio thing. I can honestly tell you from right then and there, I never even considered doing another thing in terms of a career other than broadcast or other media."
On October 15, 1984, Russell's very own talk show ญญ SportsTalk ญญ made its debut on Vancouver radio station CJOR.
***
Talking sports for 15 years
Bob Mackin - North Shore News 1999
SPORTSTALK host Dan Russell behind the mic at CKNW's downtown studio on the 21st floor of the TD Bank Building. The show turns 15 tonight at  
By Bob Mackin
News Reporter
AT night, Dan Russell can gaze across Burrard Inlet from his 21st floor studio in downtown Vancouver's TD Bank Building and see the string of lights that is Lonsdale Avenue.
At 23rd and Lonsdale is the arena where Russell worked on Cablevision's black-and-white junior hockey telecasts during the mid-'70s.
"It was the last community channel to have black and white cameras," he recalls fondly.
Now it's the end of the '90s and Russell is celebrating a decade-and-a-half as host of Canada's longest-running sports talk radio show.
It will be a special moment tonight at when he'll offer his familiar "pleasant good evening" to listeners around the province via the WIC Radio Network and around the world via the Internet.
On Oct. 15, 1984, Russell debuted SportsTalk on CJOR AM 600 with shortlived Canucks' head coach Bill LaForge as the first guest. It wasn't long before LaForge was the Canucks' ex-coach and headed for hockey oblivion. Tony Muser, the second guest, was early in his rise through baseball's ranks. The Canadians' manager in those days is now field boss of the Kansas City Royals.
In the past 780 weeks, Russell has switched radio stations three times, followed the Canucks to the Stanley Cup final in 1994 and Japan in 1997, launched his own charity golf tournament and cultivated regular callers with nicknames like the Poet and the Pauser. One dedicated listener couldn't resist joining the nightly hotline segment, so he had to phone while transporting his expectant wife to a maternity ward.
"That's the fun of being the host," Russell says. "The listener never knows what the next caller is going to bring up. They know Dan's going to be on at , but they don't know quite what's going to happen when he's on."
Russell's father built him a toy studio where he pretended to be a disc jockey as a child. In high school, the Richmond resident volunteered for Cablevision. He graduated to BCIT's broadcast journalism program and was hired during his first year to work part-time, off-air, at CJOR. The home of broadcasting legends like late, great North Shore residents Pat Burns and Jack Webster was the smoke-filled basement of the late Grosvenor Hotel on Howe Street.
"I miss that whole environment," says Russell. "You don't see radio stations like that anymore, that was just great."
It got even better when Russell scored a regular on-air DJ gig from to Saturday mornings.
Russell moved with CJOR in 1982 to Fairview Slopes. In the fall of 1984, CJOR had a hole to fill from to between Burns' live hotline show and re-runs of ex-premier Dave Barrett's morning program.
Russell's proposed sports talk show was the answer. It worked so well, it expanded to 90 minutes, then two hours and finally three hours. When CJOR switched from all-talk to classic rock, Russell was out of a job. He quickly received four job offers. He opted to move to CKWX for a year and then made a potentially risky move to the FM dial on CFMI in 1989.
"Most people had serious doubts whether a talk show could work on FM, it just wasn't done," he says. "I remember people saying to me a lot of people don't have FMs in their car yet. My counterpoint was most of our listeners don't listen in their car, they're home already."
The doubters were silenced. SportsTalk dominated the to slot and became a gathering point for Canucks' fans during the 1994 Stanley Cup playoffs. After the heartbreaking game seven loss to the Rangers in the final, Russell spent a personal-best seven hours on-air from New York City until the last call was answered.
That game was the last for Jim Robson, the Canucks' play-by-play voice on CKNW since day-one and the man Russell dearly wanted to succeed. He even spent three years honing his craft as full-time play-by-play announcer for the Western Hockey League's Seattle Thunderbirds -- while remaining as full-time host of SportsTalk.
"That is one of the things I am most proud of that nobody knows about, to be able to do two full time radio jobs in two countries at the same time. It was probably the busiest I've ever been. We were doing shows the same night as games. Games would literally end minutes before, sometimes seconds before, we'd go on to do Sportstalk. I don't think many people knew we were doing it from Seattle."
Instead, Jim Hughson (and later John Shorthouse) got the brass ring. Russell had to settle for working a series of games televised on pay-per-view in 1997.
"Y'know what, that was all I wanted, one game" he says. "I got four."
For too long, Russell concedes, the desire for Robson's job distracted him from cherishing SportsTalk, which crossed the hall in 1997 from CFMI to its AM sibling CKNW. He averages about 32,100 listeners every quarter-hour. Surprisingly, about 45% are women. It's a show that Russell thinks can thrive for another 15 years.
"I woke up one day and figured out this show is probably something a lot of people would aspire to do and here you've been doing it all this time thinking about doing something else," he says. "So maybe it's time to appreciate what you're doing."
***
The Province 2004
Joe Leary
Even Dan Russell is surprised at his show's longevity
When Dan Russell first took to the airwaves in 1984 to host a sports talk show, most people felt it would be relatively short- lived.
That was 20 years ago. Today, Sportstalk remains not only the pioneer but still a dominant force in the Vancouver market.
"There was never a feeling in my head that it would last this long," says Russell. "There had been sports shows that had been tried before ours but nothing really caught on. We came along and things just clicked."
It's been a long and winding road for the durable program, which debuted on then-CJOR [600 AM].
Says Russell: "When CJOR went rock [CHRX], we took the show to CKWX [1130 AM]. After about a year, CKNW [980 AM] approached us but wanted us earlier in the evening. We felt we were pretty established in the to slot, so then we were offered ROCK 101 [101.1 FM]. One of the issues we had back at that time was the fact that a lot of cars didn't have FM radios in them."
Concerns to the contrary, the program lasted on the classic rocker until 1997, at which point it jumped over to its current home, sister station CKNW.
Though the Vancouver radio market may appear somewhat oversaturated with sports talk radio -- namely, The TEAM [1040 AM] and MOJO [730 AM] -- Russell rarely listens to the competition.
"When you're the last sports show on in the market, the last thing I need is to hear what everybody else has done. It's just not advantageous." says Russell.
"I'm not awake to hear the morning shows and I'm preoccupied in the afternoons and evenings putting our show together."
Despite a run of two decades, the Richmond native still has a great deal of passion for his craft and looks forward to the future.
"I probably enjoy doing the show more now than ever," he says. "The fact that there's no hockey actually affords us the opportunity to do other things."
***
2004 Mike Beamish
Vancouver Sun
Profile of Dan Russell.
Going on 20 years, Dan Russell's Sportstalk has been the No. 1 jock talk show on radio. And there's a reason why -- the host
Talk radio has a reputation, sometimes deserved, for being vulgar. But vulgar takes its root from vulgaris, Latin for "the common people", and Dan Russell is certainly that: The people's choice.
When sports talk radio is good, it has the comfortable feel of a couple of guys at a bar, getting loose, doing the male thing, bonding over a discussion about the Canucks.
Going on 20 years at his gig as the host of Sportstalk, heard from to locally on CKNW radio, the 43-year-old Russell is the king of the late-night airwaves in Vancouver. Considering his widespread appeal to local sports fans, he might just be our jock talk Larry King, a flattering analogy, considering that Russell holds King, who pioneered the first national late- night talk program in the U.S., in quaintly reverential awe.
"I was a radio junkie," Russell says. "When I was a kid, I listened to Larry King as much as possible. I've always been a huge admirer. His interviewing skill is second to none. He asks short questions and knows when to keep his mouth shut."
Russell's aspiration was to be connected with the broadcasters who, almost as much as the players, are the makers of indelible memories for millions of listeners.
"I just loved the instant communication of radio, the 'theatre of the mind'," Russell says. "I would just sit by the radio for hours, listening to stations like KFI [Los Angeles] and KGO [San Francisco], which were communicating to a mass audience but gave the feeling they were just talking to me. I just love the one-on-one aspect of radio. When somebody on the radio is doing his job, you feel as if they're talking to you and you only. You don't get that on TV."
Sports radio in Vancouver is really a misnomer. It's really hockey radio, especially Canucks' radio, packaged and sold to the target listening group -- men 25 to 54 years old. Hockey talk dominates the discussion, even in the middle of summer, when the B.C. Lions have kicked off the Canadian Football League season and the soccer Whitecaps are scissor-kicking at Swangard Stadium.
As the 24th largest media market in North America, Vancouver, home to just one major professional team, really isn't a great sports town. The Sporting News ranked Vancouver No. 37 in its list of "best sports cities" in North America, an improvement from No. 43 in its previous ranking. Hey, we got the Olympics.
"There's just not enough sports content in Vancouver, with only one major league sports team, and it's unfortunate," Russell says. "When the Lions are playing some of their most important games of the year, they're not as front and centre in the newspaper as the Canucks are when they're in training camp. In some ways, the other sports are a bit of a filler between hockey seasons. As much as we try to steer the programming in a different direction, it keeps coming back to the Canucks. And that's what Sportstalk is, identifying what people are interested in."
Before the arrival of all-sports radio stations in the Vancouver market such as Team 1040 AM and Mojo AM 730, at least 15 rival shows have come and gone since Russell went to air on CJOR, Oct. 15, 1984, with the first one-hour segment devoted exclusively to sports. By 1994, the format was suffering diarrhea of the mouth. At that time, there were five local shows -- four on radio, one on BCTV (John McKeachie's 280-Jock) which came on after the late-night news. All but Russell's Sportstalk have had the plug pulled.
"I'm not even sure if my show lasted a year," says McKeachie, now with Mojo. "Dan had the advantage of being the first in the market, but there's more to it than that. People don't realize how hard he works and how conscientious he is. He put in a lot of long hours, building his show and his audience, in the early years."
Squire Barnes, who produced Gallagher on Sports, which aired on CKWX for 20 months before it was cancelled in 1990, is the first to admit that when it comes to sport talk in Vancouver, Russell rules. When it left the air, Gallagher on Sports, which gave disembodied voice to Tony Gallagher, the provocative and freewheeling newspaper columnist, was actually ahead of Russell's show in the last book of BBM ratings.
"The best part of Dan's show is not the guests, it's him," Barnes says. "He's changed stations a million times [CJOR, CKNW, CFMI, My City Radio, an Internet station and two go-rounds with CKNW], and he's gone through a lot of different regimes with the Canucks. But he's carved a niche. He's blazed his own trail, really. Before he came along, there was nothing in this town like that."
The sports world has changed drastically since Russell launched Sportstalk in 1984 and nothing has changed more than the coverage. Back then, there weren't all-sports radio stations, all-news stations, a platoon of sportswriters filling pages of hockey copy on a daily basis or the plethora of local TV stations and national cable networks such as TSN, Rogers Sportsnet and The Score stampeding into locker rooms.
In the antediluvian '70s, Ted Tevan began his sports broadcasting career as the host of Sports Rap, a one-hour segment on CFOX radio in Montreal which aired in 1972 and is believed to be the precursor of the format in Canada. Flinty, self-confident and brash, Tevan may be an elder statesman but he's still brutally confrontational as the host of the Ted Tevan Show on all-sports CKGM, the Team 990.
"I'm a very rough guy," says Tevan, 67. "If you've nothing slick to say, I tell my listeners to get off the line. Now! 'You're Gone'." As part of his take-no-prisoners schtick, Tevan's dismissal of a weak caller is accompanied to the sound of machine-gun fire or exploding dynamite.
Bemused by his notoriety, Tevan is an example of the special penetration sports talk has in the lives of its adherents. Three times in his career, Tevan says, he has kept callers threatening suicide on the air, talking sports, until they could be reached by the police.
No embodiment of the sports geek himself, he is quick to switch the conversation to politics or world affairs if the situation warrants.
"The biggest game is still the game of life," he says. "If something truly important -- Sept. 11, the war in Iraq -- overpowers a late home run or an overtime goal, I go there."
Another golden oldie in the jock talk genre is John Short of Edmonton, a 67-year-old media maven and admitted workaholic who goes virtually non-stop from the time the morning paper hits his doorstep to the time the next day's edition is put to bed.
A former publisher of the Ridge Meadows News and managing editor of Alberta Report, Short used to do 300 radio shows a year, in addition to turning out five columns a week for the Edmonton Journal. He started his sports talk career as a post-game host of Oiler games and began his own show, appropriately named Sportstalk, in 1982, on CFRN.
Russell came to Short two years later when CJOR gave him a chance.
Bob McCown, host of Prime Time Sports on the Fan 590 in Toronto, the only nationally syndicated sports talk show on private radio, is, with some justification, "the showcase guy" in Canada, Short acknowledges.
But "Dan's the champion, with 20 years in one place [Short was off the air from 1999-2000]," he says. "He called me from Vancouver when he got his show. 'Is there any trick to this?' I told him, 'the only thing you have to have is an opinion on everything.' The one thing about Dan is that he does his homework. He works as hard as any sports talk host in the country."
When the concept of a sports talk radio program was first offered to him 20 years ago, Russell figured he would have trouble holding listeners' attention span for an hour. Now two stations in Vancouver fill 24 hours with straight jock talk.
By 1999, WFAN in New York, which was the first station in North America to go to an all-sport format in 1987, was the highest billing station in the U.S. and, probably, the world. In February of this year, the U.S. had 454 stations broadcasting sports at least 80 per cent of the time compared with 196 in 1994.
Sports talk does something radio is supposed to do but traditionally didn't do very well: It targets the elusive audience of 25-54-year-old men, hard to reach consumers who are mobile (business people, outside sales, delivery truck drivers ) and not in contact with television or print from to
Ironically, Russell feels his show is better now that he's married, with two young girls, and sports isn't his be-all and end- all. Unlike Larry King, who acknowledges that his work comes before relationships (just ask one of Larry's seven ex-wives), Russell thinks that marriage and family have added some balance to his life.
"I think it probably turned my life in a way it needed to be turned," he says.
"If there were 38 hours in a day, I'd probably spend 30 hours following sports, trying to make my show the best it can be. The interesting thing is, I've never enjoyed Sportstalk more than I do now. Maybe it's a combination of having balance in my life and being in the marketplace so long. I think the word is confidence. I feel I can go on the air and pretty much handle any situation that comes up."
Working on radio, a medium suited to everydayness, Russell's show is a hotstove lounge for those looking to vent, whine, spout or discuss. Callers shouldn't be confused with listeners, who make up about 98 per cent of the sports talk audience.
"There's more media now and fans are more aware of what's going on because the team [Canucks] is so covered," Russell says. "But our show is so firmly established that it doesn't matter if the news is old by the time we come on the air. I know our listeners are loyal because they're there all the time. It's like one big gathering every night. I know people have told me, 'You go to bed with me and my wife every night.'"
In your mind's theatre, you can picture Russell as a little boy in his suburban Richmond bedroom, listening to velvety Vin Scully give his audience goose bumps describing a meaningless Los Angeles Dodgers game. Or he would press his ear to a transistor radio to hear Jim Robson's call of a Canucks' game from New York or Chicago, picking up the roar of a distant, thrilling world, like the sound in a seashell from some exotic, faraway shore.
Indeed, when the descriptive masters of play-by-play get it right, they transport the listener there and make him see. Scully, in his 55th year as the voice of the Dodgers, and Robson, the original voice of the NHL Canucks, could make Stevie Wonder see.
"Those were the guys I looked up to as a kid," Russell says. "In no particular order, Vin Scully, Jim Robson and Larry King were at the top of my list."
A broadcaster is important to a sports franchise since he turns listeners into fans. Russell can draw upon a huge fund of hockey knowledge because he did junior games as a play-by-play announcer for years, hoping that Jim Robson's seat in the announcing booth would one day be his. He finally got to do some Canucks' radio play- by-play last season but only as a fill-in for Robson's successor, John Shorthouse, whose wife was expecting.
"I certainly threw my hat in the ring, and I've provided dozens and dozens of [audio] tapes over the years," Russell says. "It was really a kick when I got to do some [Canuck] games. I love doing play-by-play, but what I learned was that I love doing Sportstalk more."
Russell is one of the fortunate few for whom there was a continuous link between childhood play and adult work.
From the time he was in elementary school, Russell spent his idle time holed up in the basement of the family home, playing the star of a make-believe radio station.
His father Ken, a life-long B.C. Tel employee, was one of his formative influences. He helped Dan set up a mock broadcasting studio, with turntables, microphones and a log book. Dan was the show.
Disc jockey, play-by-play announcer, newscaster, program director, station manager. The pay was non-existent and so was the audience.
"I'd just broadcast to myself or into a tape recorder," Russell says. "My family and friends chuckle about it now. My dad used to say, 'Dan, I really hope you get into radio. If you do, I know I can turn you off.' It was the standard family joke when I was a kid."
A radio addict, Ken Russell would take his son along to watch disc jockeys and talk show hosts on location at a store promotion or the PNE. While attending the broadcast journalism program at BCIT, Dan worked as a board operator at CJOR and became the first all- night DJ at a new station in Richmond, CISL, upon graduation from BCIT in the spring of 1980.
In 1983, he did a one-hour weekly guest appearance on CJOR, talking sports on a late-night show with host David Berner. From such a small stepping stone, he rose to his current perch.
Russell remembers with affection the cutthroat heydays of talk radio in Vancouver, when gravelly-voiced "hot line" stars such as Pat Burns (who referred to female callers as "Doll"; the men as "Mac") and prickly Jack Webster ("Turn your radio down, madam!") dominated the airwaves.
"It was so magical to me," Russell says, "just to be in that environment. I couldn't wait to get to work."
The wonder is that he calls it work. Marinated in freewheeling conversation for most of his life, Dan Russell gets paid to do what comes naturally.